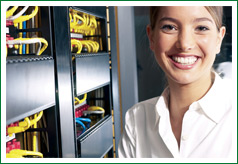 Communications:
Networks you can rely on
We know that being able to communicate electronically at all times and without system breakdowns is crucial to conducting your business.
DBA can make your business run more smoothly and effectively by securing your lines of communication. We install computer and telephone cables, cable racks, punch downs and fiber optics, verifying at every step along the way that our installations will meet the demands of your data flow and servers—without fail.
Examples of Systems/Equipment Installed:
SMP
Leviton
Corning
Panduit
CPI
Types of Installations:
Phone/data wiring
Data racks
Server farms
Single mode/multi mode fiber optic