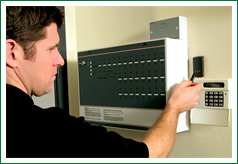 Card Access:
Maximize your control
The open architecture of our state-of-the-art customized card access and control systems allows for virtually unlimited flexibility, enabling us to create the optimum program for your business operation.
When used in conjunction with our CCTV systems—which provide visual verification of the card user—the security of your facility is greatly enhanced. If the protection of new products or sensitive information is a requirement, even internal access can be restricted and monitored in designated areas of your building.
Examples of Systems/Equipment Installed:
Ademco
Brite-Blu Schlage
Radionics